Achievements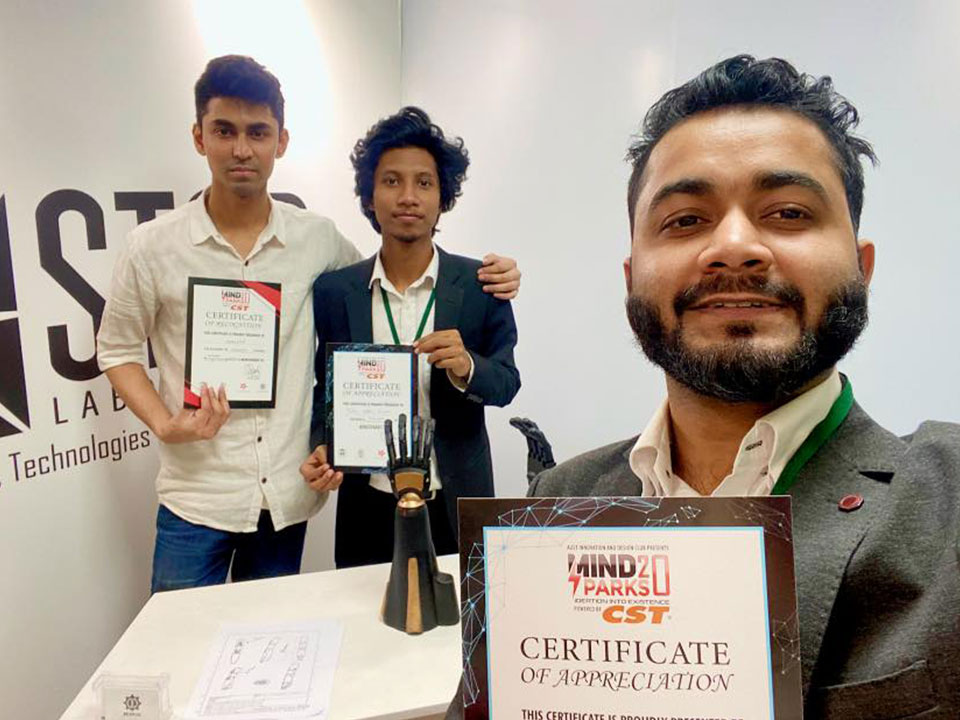 Awards, Grants and Honours
Best Poster Award (Bioengineering), 2nd International Conference on Genomics, Nanotech, and Bioengineering-2022 for the research titled 'Development of 3D bioprinter and printable biomaterials.'
Brac University Alumni of Impact in recognition of achievements in academia, research and entrepreneurship (2021).
First position in MIST Inter- University ICT Innovation Fest project showcasing (prosthetic arm) (2021).
Second runner-up in the Robot Nokshar Ashor Daffodil International University, Bangladesh (2021).
Global Community Bio Fellowship led by Abel Cano and Marshall Ganz from Harvard Kennedy School. Organized by Community Biotechnology Initiative, MIT Media Lab (2020).
'Nick Sanders Kickstarter Award' by Masood Enterprise Centre (MEC), University of Manchester, UK (2020).
'Design for Life' award for designing automated CPAP ventilator EDGE Foundation (2020).
Honorable mention in the "ACT COVID-19 Call for Nation Hackathon 2020" for low cost open source SARS-CoV-2 detection kit development. ICT Division, Bangladesh Government. Dhaka, Bangladesh (2020).
Champion, MINDSPARKS 2020 for designing a low cost EMG signal and voice operated prosthetic arm. Organized by Ahsanullah University of Science and Technology in association with IIT, Roorkee, India (2020).
Monetary Grant, Dhaka University Microbiology Alumni Association (2019).
1st Runner Up of 'The Geneva Challenge' organized by the Graduate Institute, Geneva, Switzerland (2018).
Travel Awards in Global Community Bio Summit 2017, 2018 & 2019 organized by MIT Media Lab.
'Highest Distinction' in BRAC University convocation (2015).
Vice Chancellor's & Dean's Awards for academic excellence, Brac University (2012-2015).
'Reading Competition Award' (2012).
Farm-Fresh National Intercollege Science Fair Award (2011).
Farm-Fresh National Intercollege Science Fair Award (2010).
Bangladesh government Scholarship for Academic Excellence (2006).